After spending an awesome weekend in Park City, Utah with family and friends celebrating one of my bestie's wedding, I needed something that would take away the shakes and make me start to feel a little more human again.
I love a chef salad, but they are definitely one of those salads that calories can overtake the effectiveness in restaurants quite easily, so it's always been one of my favorite make at home salads.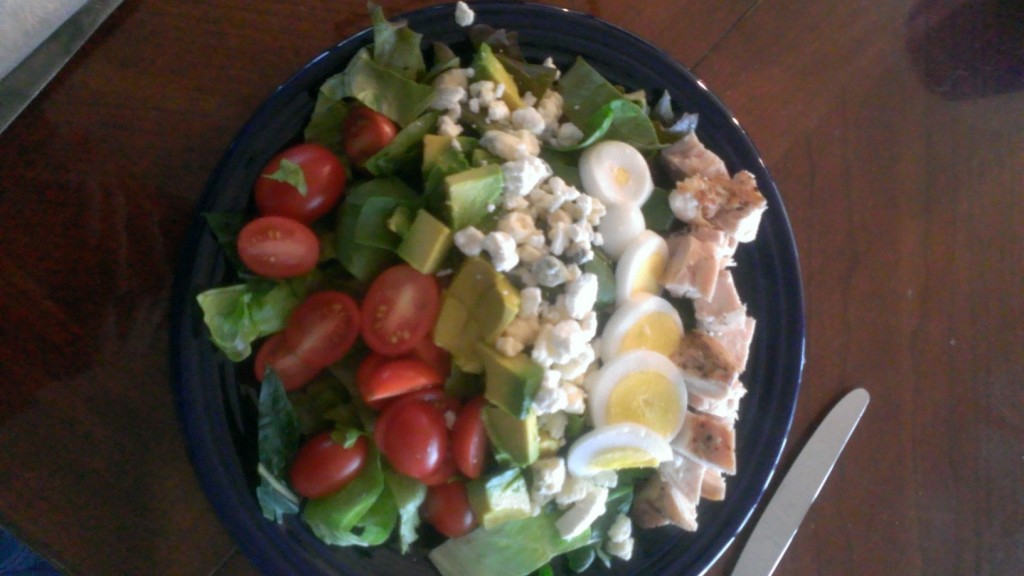 On a large plate layer chopped romaine, spinach, and kale.  In stripes, add halved cherry tomatoes, cubed avocado, crumbled goat cheese and bleu cheese, a sliced hard boiled egg, and diced chicken.  Serve with your favorite ranch dressing (mine is Bolthouse Yogurt Ranch).
Recently I feel like I've finally nailed the hard boiled egg.  Sounds simple, those eggs, but they aren't always that way.
Perfect Hard Boiled Eggs:
-Start with old eggs, the older the better.  This makes them easier to peel.
-Place the eggs in your pot and cover with cold water to about an inch over the top of the eggs.
-Bring to a boil.
-Take off the heat.
-Cover, and wait 12 minutes.
-Rinse with cold water until they are no longer warm.
Moist Grilled Chicken:
-Take a chicken breast and sprinkle both sides with salt/pepper, then place in a plastic bag, or cover in plastic wrap.
-Pound to about an inch thick.
-Grill for 7-8 minutes each side on medium-high heat. Do not cut into it to check temperature or doneness.
-Let rest for 1-2 minutes.
Happy summer!
xx
-h