I hope everyone had a wonderful Thanksgiving and mini-vacation. Although, the holiday has passed, I wanted to share our festive table. R and I hosted this year, and I was pretty proud of how well everything turned out.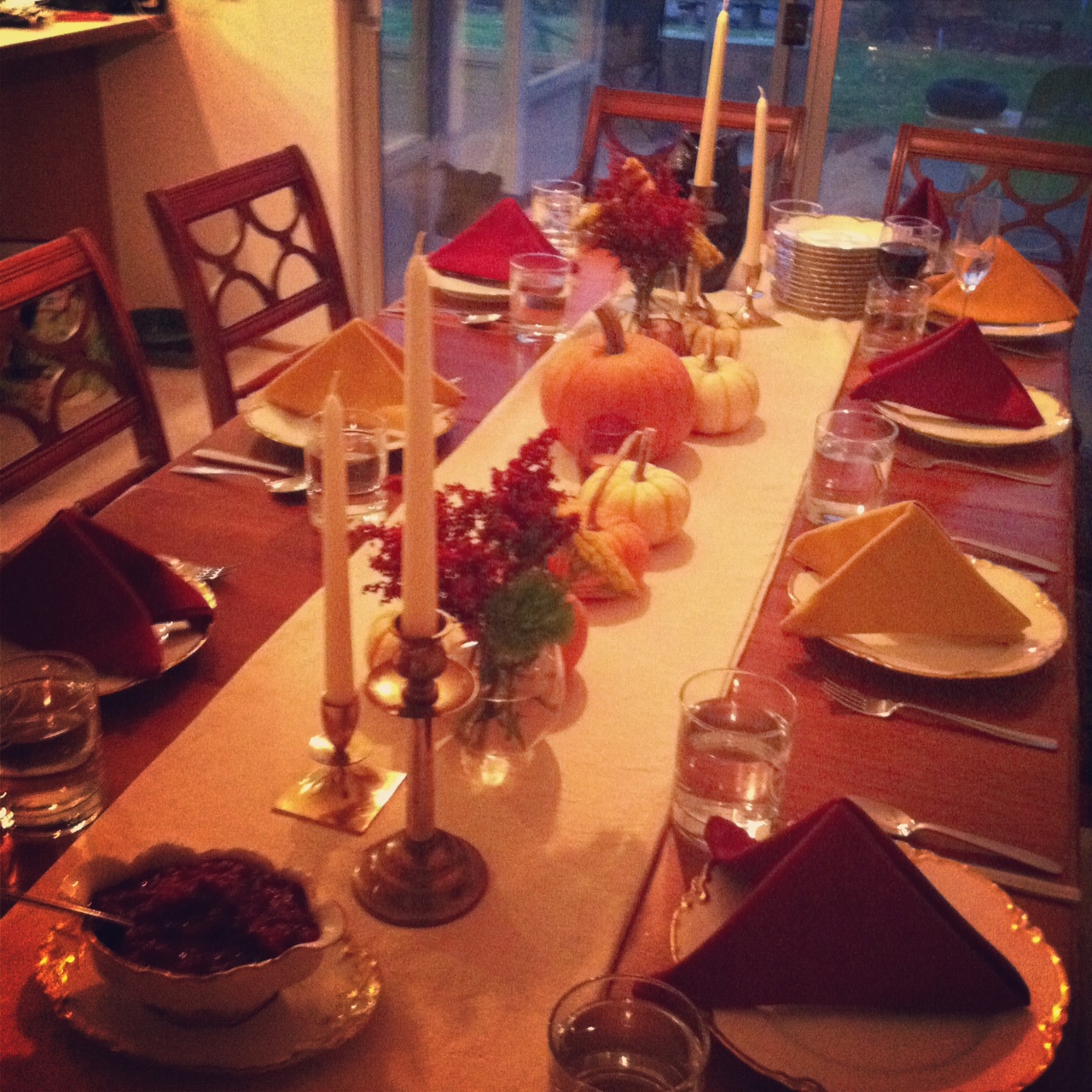 Here are the deets:
Table runner from Target (actually a tablecloth folded)
Pumpkins from Terry's Berries and Scholl Farms
Brass candle holders – vintage, the tall ones were wedding presents to my parents that they lent us
China – vintage from my grandmother's aunt
Silverware – Vintage Gense gifted from the Nana
Flowers from Metropolitan Market arranged in stemless wineglasses
Water glasses – double Manhattan glasses from when Canyons Resort hosted the MLS All-Star Game events
Champagne Glasses – Stolzle
Water pitcher – Gurgle Pot
Napkins in Golden Yellow and Henna  – World Market
Some highlights from the actual meal:
Turkey, braised using bourbon and fresh rosemary, I sort of made the recipe up. I would recommend buying a turkey that has the belly button that pops when it is done. It makes it so much easier to gauge if the turkey is ready to be pulled from the oven or not.
Brown butter green beans from Real Simple.
My mom brought The Pioneer Woman's Stuffing.
My brother and sister-in-law did an amazing cheese platter, with tons of cheeses from Grocery Outlet (whaaaat?) and crackers from Trader Joe's.
Bourbon-Apple Crumble Pie adapted from this recipe.
Drinks
Several growlers of beer from Pint Defiance.
Whites and Reds from WA and CA.
So many things to be thankful for this year, and always.
xx
-h