There are certain rite of passage trips that every chick takes in their life. One of those is the quintessential Vegas Bachelorette Party (VBP) trip.  One of my best friends is getting married in April, and I have the VBP coming up in a couple of months.  I've been slowly acquiring necessary Vegas attire options including a new pair of Vegas shoes.  There are a some things that Vegas shoes can pull off that most shoes cannot, including: extremely high heel, sparkles of any type, impossible to walk in, and cheap.  When I found a pair of sequin 5″ heels at Target on clearance for $14.98, I knew I had struck a rose gold mine.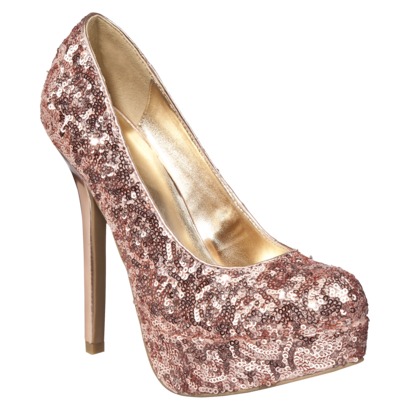 Target Rose Gold Pump – $14.98 (update: now only available in black sequin)

I got the opportunity to give my Vegas shoes a trial night out when I went down to visit R a couple weeks ago, who was training for work in Sin City. We decided to head to the strip for dinner and drinks. I confidently put these pink babies on and we headed for the elevator. I could tell that my new Vegas shoes and I were going to be duking it out all night from the first step into the hallway. The toe slopes up, so as I stepped, I wobbled forward, and almost ate it on the carpet. No biggie, they were brand new and still slippery on the bottom.  We made it to the Bellagio and headed toward Olives.  The floor of the Bellagio boasts concrete that has been pounded to look like cobblestone – greeeeat. I stayed close on Rory's arm as we headed to the bar for a quick drink before our reservation and I started getting more comfortable in my shoes.
After dinner, we decided to walk toward the Cosmopolitan so I could check it out on the recommendation that it would be the perfect place to stay during the upcoming bach party. (I think they were right, a giant shoe in the lobby, bling and jewels everywhere, plus Marquee!) A bit more walking and I could feel a blister coming on in my Vegas shoes. Whatever though, nothing I can't handle. We gambled a bit and decided to head for temporary hotel home. I walked out toward the taxi lineup and was near the safety of the car, when my Vegas heel clipped a crack in the pavement, and my toe lunged forward. I was going down! Luckily, Rory grabbed my arm, and saved me. Also, luckily, no one in Vegas is judging.
My feet were beat after the night in my cheap Vegas heels, but I still think they are perfect for the upcoming bachelorette party, as long as I can grab someone's arm at any given time.
xoxo
-h