Most foods are associated with a memory.  For me, my first memory of eating a nanaimo bar was when I was in high school.  I had been invited on a ski trip to Whistler with my friend Meaghan's family.  We were lucky that a group of our friends could be up there at the same time with their parents or friend's parents as well.  I think this trip, there were about 15 kids all from our same group of buddies skiing together.  Each day, we would meet Meaghan's parents for lunch on the mountain.  Following lunch, her dad would leave and come back to the table with coffee for both Meaghan's mom and himself and a treat to share.  He would alternate between a cookie, a nanaimo bar (my personal favorite) and a brownie.
I was lucky enough to have the opportunity to join Meaghan's family many more times to Whistler during both the summer and the winter.  And each time, during lunch at least one of the days, I would track down a nanaimo to share.  Over this past Christmas, I was with Meaghan's family once again, and after I finished my lunch, I stopped at the bakery to pick up the treat, we had decided on a later lunch time and they were out.  Okay, it wasn't a big deal.  I was up there again last weekend with some friends, I knew I needed my nanaimo fix.  I headed toward the lodge bakery again, when I asked the girl working if they had any nainamo bars she looked at me like I was a lunatic, she had no idea what I was talking about.  At this point, I'd been telling everyone how excited I was for nanaimos and it was starting to get a little embarrassing.
Later the next day, my friend Lindsey suggested I check the case at the grocery store.  FA LA LA!!! I had found the nanaimos!  I immediately gathered a family pack into my arms and then realized in my Caesar induced haze, I didn't have my wallet.
I was just running into the building to grab my sunglasses from upstairs, and then meet up with the rest of the group.  Luckily, when we returned to the area later for supplies, the nanaimos were still there (I had been a little afraid that someone else was on the same hunt that I was).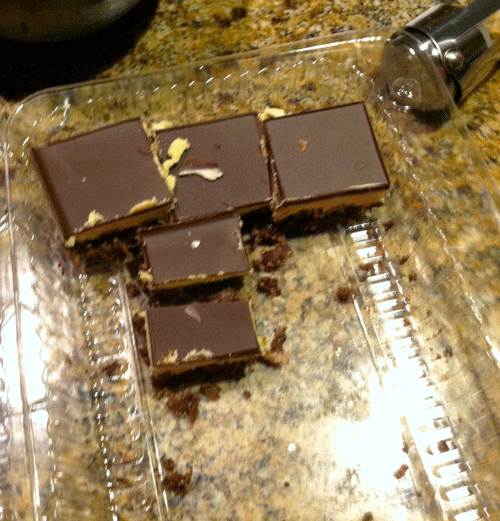 They were everything I hoped for and more.  The melty chocolatey top, the custard center, and brownie style bottom are the perfect bite of richness.
3 hours later and a few sake-ritas from Sushi Village and the nanaimo family package was just a memory.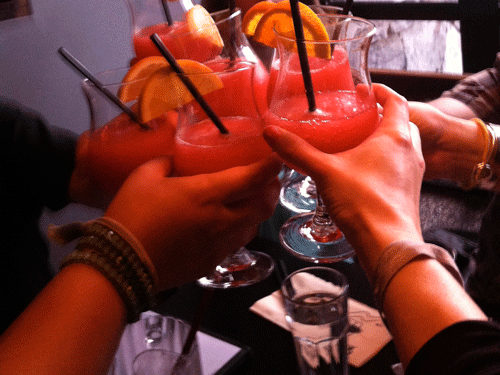 This past Sunday, nearly a week after returning from Whistler, I had to fulfill my need for more nanaimo.  My mom's friend Jane sent me her recipe, which turned out fantastic.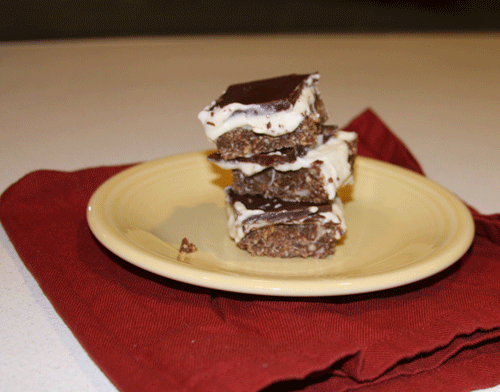 Nanaimo Bars from the collection of Jane Bertramson
1st Layer:
1/2 cup butter
1/4 cup brown or white sugar (I used brown)
3 Tbsp baking cocoa
1 beaten egg
1 tsp vanilla
2 cups graham cracker crumbs
1 cup coconut
1/2 cup chopped walnuts or pecans (I used pecans)
Mix butter, sugar, cocoa, egg and vanilla over low heat until custard like consistency. (*Watch closely and stir constantly – it overcooks easily.) Remove from heat and add remaining ingredients. Mix well and press into 9″ square greased pan.  Chill 1/2 hour.
2nd Layer:
2 cups powdered sugar
1/3 cup butter
1/4 cup evaporated milk
Combine and beat until smooth and fluffy. Spread on 1st layer and chill 1/2 hour.
3rd Layer:
4 oz semi-sweet chocolate
1/4 cup butter
Melt together and spread over 2nd layer.  Chill at least 1/2 hour or overnight before serving.  *If chilled several hours or overnight, remove from refrigerator 1/2 hour before cutting.  Cut into 1″ squares.
Enjoy!
xx
-h