I usually like to make something for dinner on Sunday night that will have enough leftovers to be my lunch for the week.  Whatever I make sets the tone for the week and it's nice to not have to think about throwing something together or resorting to unhealthy choices during the day.  This weekend was relaxing but active, so I wanted comfort food.  Stuffed peppers have always been one of my favorite dishes that my mom makes, but through the years I've added a few twists of my own.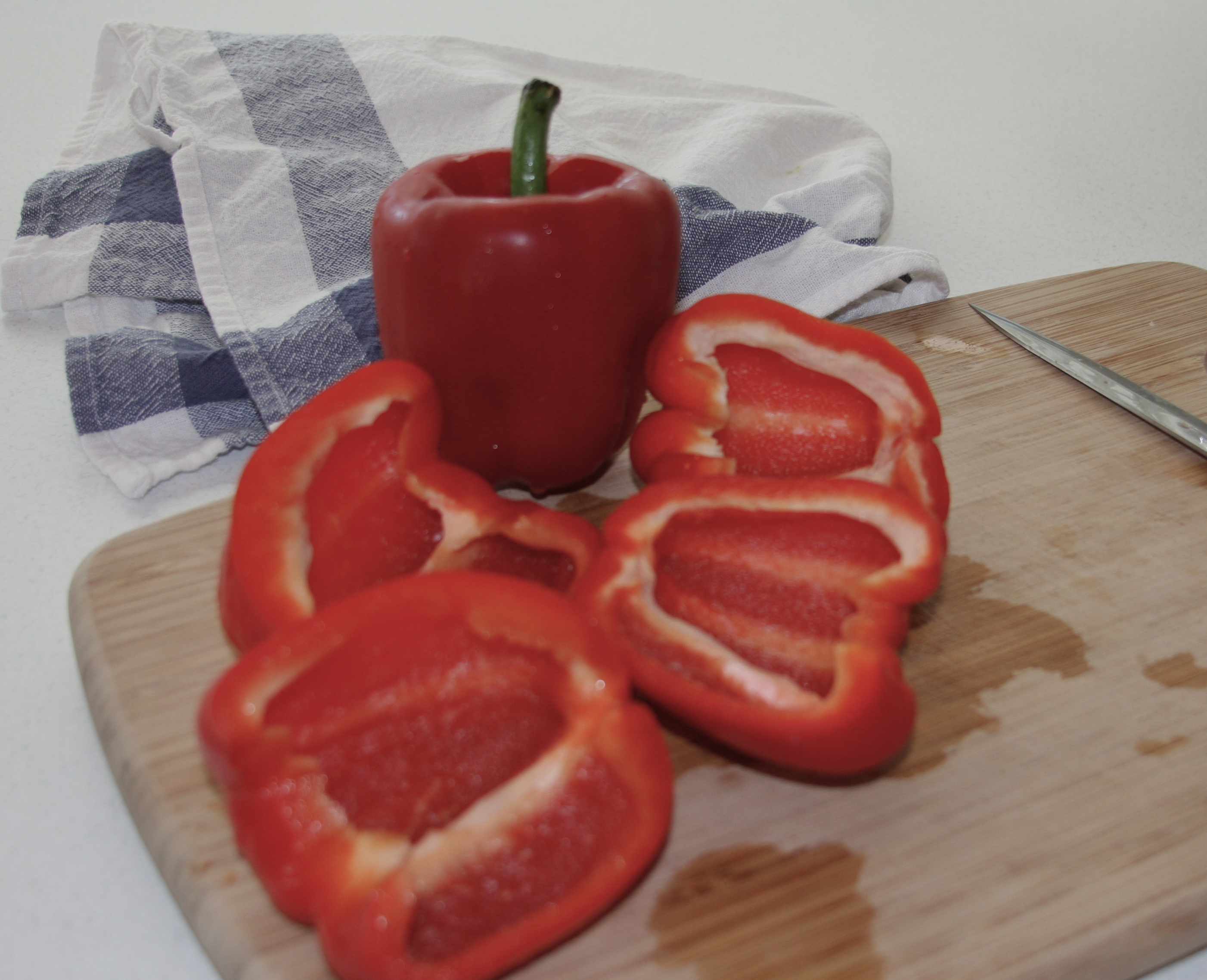 Stuffed Peppers
-Preheat oven to 350.
Ingredients
– 3 bell peppers
– 1 package ground turkey
– 1 package frozen Trader Joe's brown rice – they sell this in boxes in the frozen section and they come in individually microwavable packages.  It cuts the brown rice prep time down to 3 mins instead of an hour.  You can also use regular brown rice of course, cook according to directions.
– 1 small can corn
– 1/2 onion chopped
– 1 can tomato soup mixed with 1/2 can milk or about a 1.5 cups of pre-made tomato soup (I like the Pacific kind in the box).
– grated cheddar cheese
-Wash and de-seed 3 bell peppers (red is my favorite, but if you prefer green, yellow, or orange go for it) and cut them in half hot-dog ways – see above photo.
– Brown the turkey and drain off excessive fat.
– Meanwhile microwave the frozen rice, or if you're using normal brown rice, cook that.
– In the same pan you used for the turkey saute the onion until it's translucent and has softened.
– Add the drained corn to the onion and sauté.  Sprinkle with about 2 teaspoons of cumin and 1 teaspoon chili powder.
– In a big bowl mix the turkey with the onion and corn and add the rice.  Taste it at this point and if it needs more flavor add more cumin and chili powder.
– Arrange the pepper halves in a baking dish and fill them with the turkey, rice, onion, and corn mixture.
– Gently pour the tomato soup over the top of the peppers letting it fill in the crevices, it's okay if it spills over a little.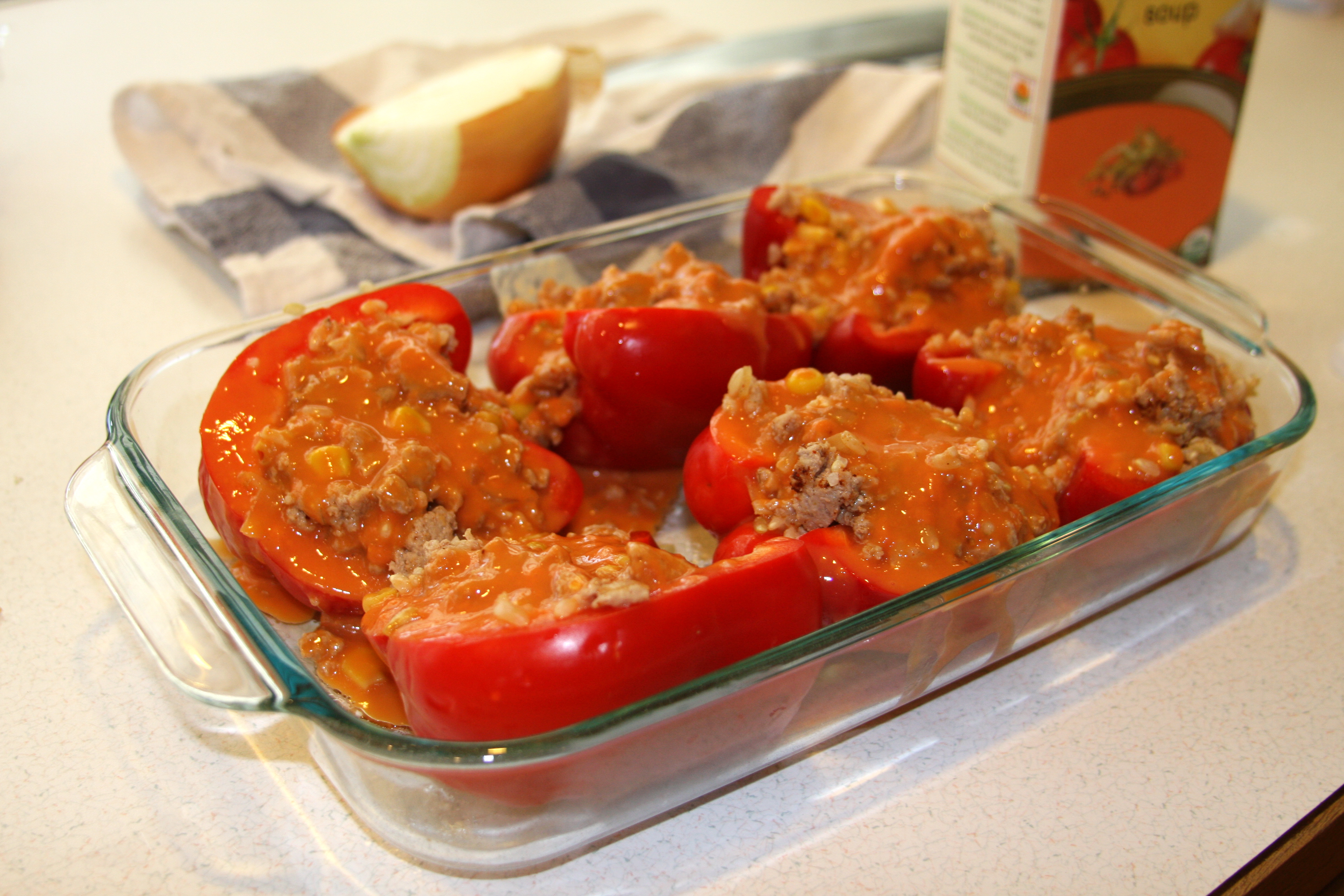 Bake at 350 for 45 minutes or until peppers are soft.  In the last 5 minutes of baking sprinkle with grated cheese and cook until melted.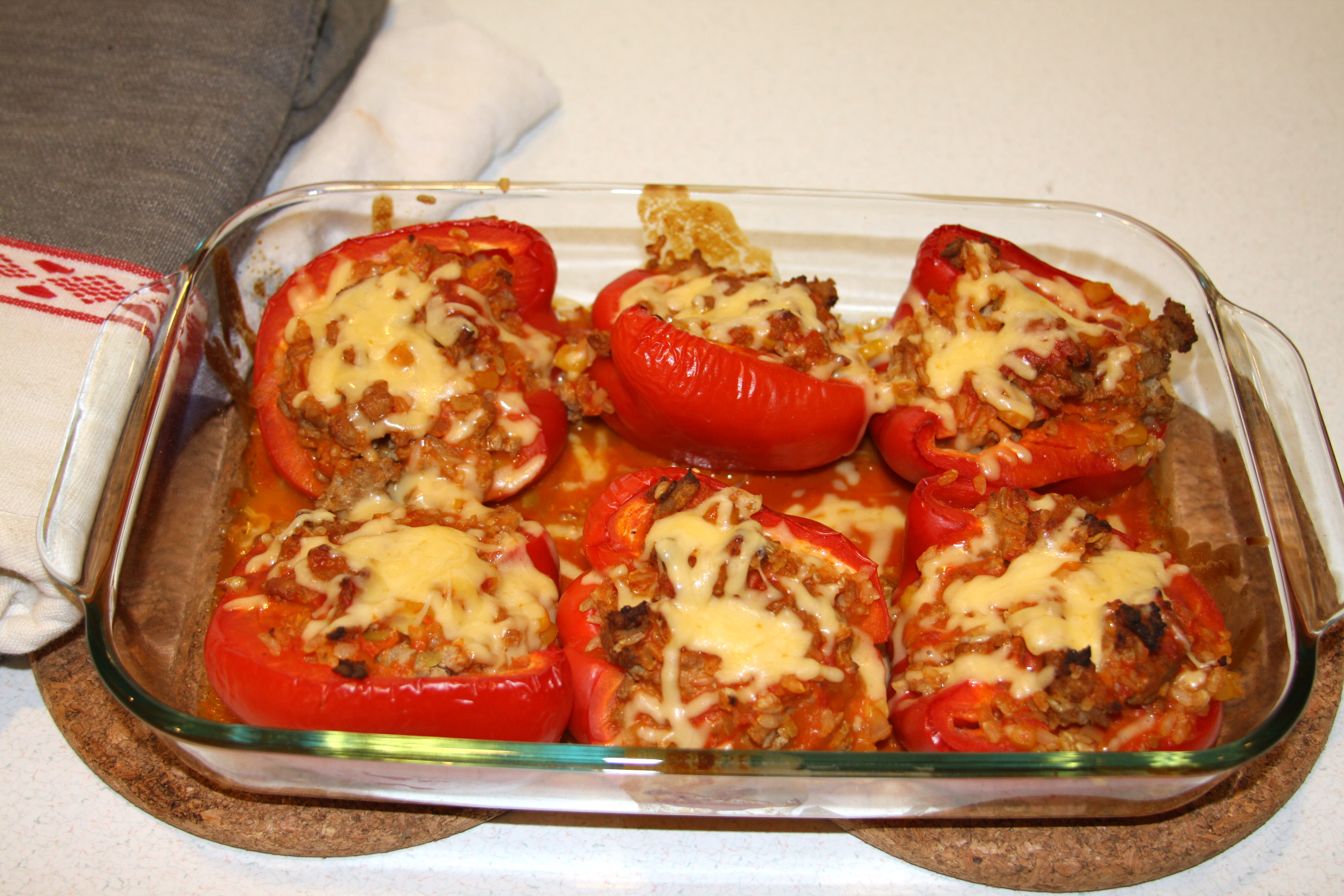 Let cool for 5-10 minutes before serving.
I love these because they are very easy to change according to what you have in your fridge or cupboard.  I've added chopped black olives, mushrooms, green chilies, chopped spinach, or chopped tomato to the insides mixture before, all with great results.
There will probably be quite a bit of filling leftover, I usually freeze part of it or just put in the fridge and use for tacos, add it to chili, or just eat it straight.
Looking forward to a low-key week on my end with lots of running, gym and yoga time.
xx
-h