Blueberries are on point right now.  I recently heard on the radio that growers are experiencing one of their best seasons yet, but that because the weather got hot very quickly, it will be short.  We've been getting pints of berries from our farm share and will continue to get frozen berries into the winter so I like to have a couple of recipes that are simple and forgiving.  Muffins, like quick breads, are pretty difficult to screw up as long as you don't overmix, plus they allow for a little bit of freestyling.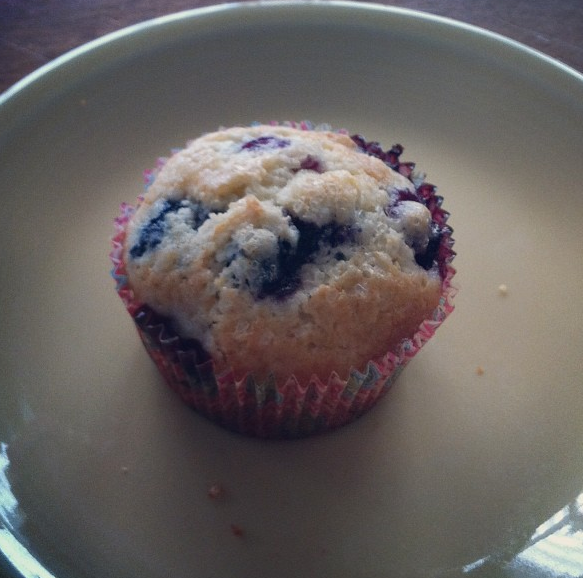 Blueberry Muffins (adapted from The Back in the Day Bakery Cookbook)
    Makes 12 muffins
– 2 cups flour
– 1 cup sugar
– 1 tablespoon baking powder
– 1/2 teaspoon salt
– 1 teaspoon ground cardamon
– 1/2 teaspoon cinnamon
– 1/4 cup vegetable oil
– 4 tablespoons butter melted but not hot
– 1/2 teaspoon vanilla extract
– 2 large eggs
– 1/2 cup milk
– 1 cup blueberries (fresh or frozen)
– raw or coarse sugar for sprinkling
Preheat oven to 350 degrees and line muffin tin with paper cups.
Whisk flour, sugar, baking powder, salt, cardamon, and cinnamon together in a large bowl.
In another bowl, whisk the oil, butter, vanilla, eggs, and milk.  Make a well in the center of the dry ingredients, pour in the liquid ingredients, and mix until just combined (it will be lumpy).  Gently fold in the blueberries – be careful not to overmix.
Scoop into prepared muffin cups and sprinkle the tops with the raw sugar.
Bake for 25-30 minutes until the muffins are golden brown.
Enjoy!
xx
-h
P.S. Fresh berries can be frozen super easily!  Rinse and then pour into a ziploc bag.  Freeze for up to 6 months.