Last year Kate Spade came out with a line of cheeky tech products and bags featuring the words #popfizzclink and #baconeggandcheeseplease.
You guys – I was and still am obsessed. First of all – I love champagne. Second of all – I love tequila but not the morning after drinking tequila.  When I first met R, I was in college and would suffer through the shakes, headache, and nausea from the vodka and bud lights the night before.  I was in bed trying to keep water down one morning when R convinced me to go get some greasy food.  Miraculously, I felt better.  Since my freshman year of college, I like to think that I've matured, but every now and then there is still that morning where a greasy breakfast is necessary.  These days I turn to a turkey bacon, egg white, and cheese homemade breaky sandwich instead of tater tots though.
Anyways, recently, I was perusing Etsy when I found KM Calligraphy and these Pop Fizz Clink prints ($22)! I am loving this photo – definitely think I'll be picking one of these up for our bar area.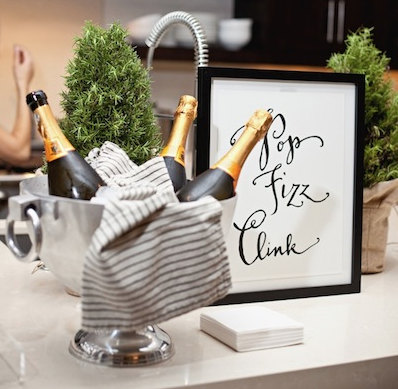 Plus, I'm totally inspired to find a bucket like that one holding those bottles, and those rosemary trees, and that faucet, and the white counter top…
xx
-h