Yaaaaay! My bff from growing up is getting married!  Over the weekend we threw her a kitchen themed bridal shower.  Invitations from Tickled Peach Studio on Etsy.  I did the printable version which was super easy.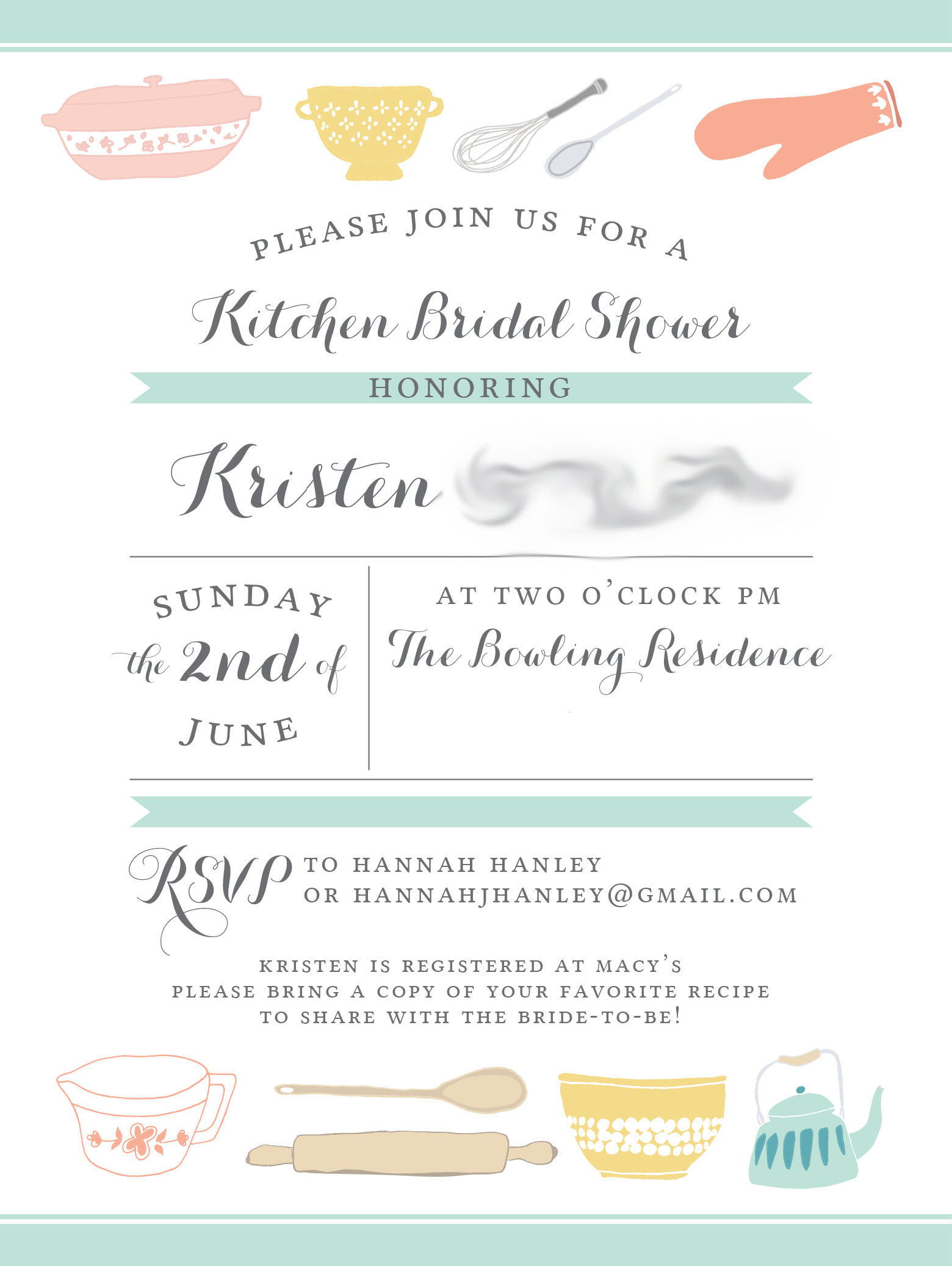 We decorated the house with vintage tea towels, table runners, napkins, and cookbooks.  Other then that decor was simple, picked up some flowers and put them in jars or glasses, and used strips of fabric for bows where it looked necessary.  I borrowed a giant whisk and strainer from my friend Courtney and they were hilarious sitting on the front porch.
For dessert I made strawberry rhubarb raspberry crisp in jars that guests could eat at the party or take with them.  We topped the jars with the metal lids and a piece of vintage fabric found at Kristen's grandmother's house, then screwed the rings on.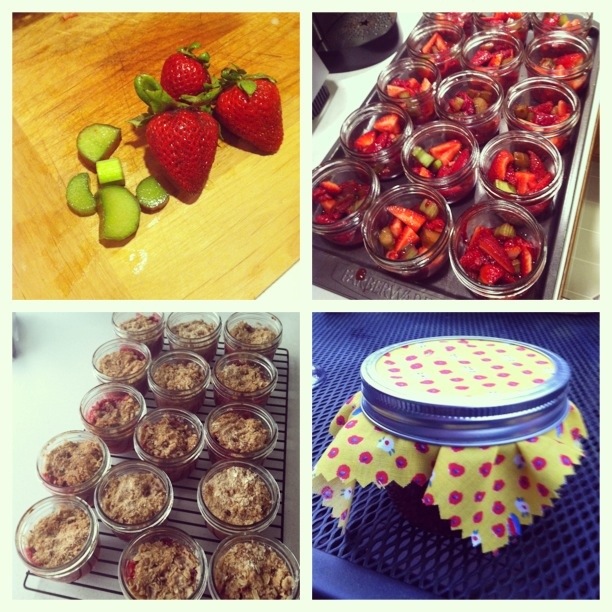 Rhubarb Crisp in Jars (makes about 32 jars)
You can half this to made 15-16 jars for a smaller crowd!
Topping:
– 4 cups oats
– 3.5 cups flour
– 2 cups pecans toasted then finely chopped
– 1 cup packed dark brown sugar
– 1 cup packed golden brown sugar
(or 2 cups of either)
– 3 sticks of cold butter cubed
– 5 teaspoons ground cinnamon
Whisk the dry ingredients together then add the butter.  Pulse in a food processor in batches until butter is evenly distributed and texture is crumbly.  If you don't have a food processor, you can use a pastry cutter or 2 forks, but it will take much longer.
Filling:
– 5-6 pounds of berries (strawberries, raspberries, blueberries)
I used 4 lbs of strawberries and about 2 pounds of frozen drained raspberries.
– 7-8 cups of thinly sliced fresh rhubarb
– 2 cups granulated sugar
– 3 tablespoons cornstarch
– 2 tablespoons vanilla extract
– 1/2 cup orange juice
– 1 teaspoon salt
Mix fruit together and then add other ingredients on top. Gently stir until combined and cornstarch is absorbed.
Heat oven to 375 degrees.  Arrange jars on parchment lined cookie sheets (half pint, wide mouth).  Gently spoon fruit filling evenly into jars.  I did them in batches of 12-15 and went back adding more to ones that looked like they could use a bit extra. Using the back of a spoon push gently on fruit to release any air bubbles.  Sprinkle topping over fruit filling so each jar is filled to the brim.  It will shrink down a lot.  Bake 25-30 minutes or until topping is golden brown.  Serve warm or cold, with ice cream or my favorite: homemade whipped cream.  Can be made a day in advance.  Wait until completely cool to put metal lids on in order to maintain crisp topping.
Enjoy!
xx
-h