About 10 weeks ago my friend Anna texted me asking if I wanted to run the Seattle Rock n' Roll Half Marathon.  I agreed and convinced Sarah to do it also.  Since then, I've been working hard getting in as many training runs as possible.  The race was last Saturday, and I couldn't be happier with the results!
Anna flew in Friday and we met in Seattle to get some last minute details in place for the bridal shower we were hosting Saturday afternoon for my future sis-in-law, Erica.  We headed to the expo and picked up our packets and then went out for dinner.  Saturday morning came quickly.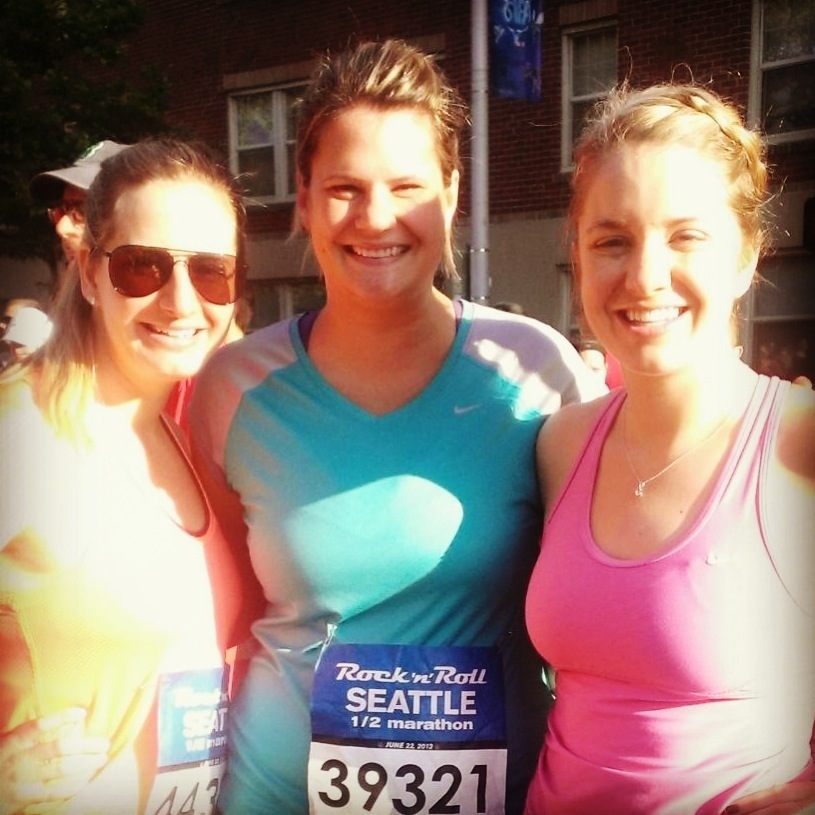 We all started together and kept a comfortable pace for the first several miles.  Eventually Sarah and I fell in together.  By mile 7, I was getting super hungry.  I hadn't experienced that sensation in my training and started to feel frustrated.  I was glad that Sarah was with me because we supported each other and pushed through the miles one by one.  Mile 8 passed and I tried to put down a gel.  I was really struggling mentally.  My legs were tired, my feet hurt, and I was hot.  Eventually we made it through to 9, then 10 and 11 came quickly.  The last part of the race is along Highway 99, there are sweeping views of the Puget Sound and cars were honking and waving as they drove by.  Tons of racers were stopping to take photos.  Sarah and I pushed through the uphill and FINALLY rounded the corner to the last stretch of the race.  There were tons of people lining the course cheering for their family and friends.  There is a short down and then a steep uphill.  I could feel Sarah steps behind me and we both started to sprint.  I was scanning the crowd the whole time looking for Rory and just as I passed him I heard him yelling.  Crossing the finish line was emotional, but I felt so proud of myself, I couldn't help but smile.   Anna finished shortly after us and we all met to walk back to Sarah's apartment to get ready for the bridal shower.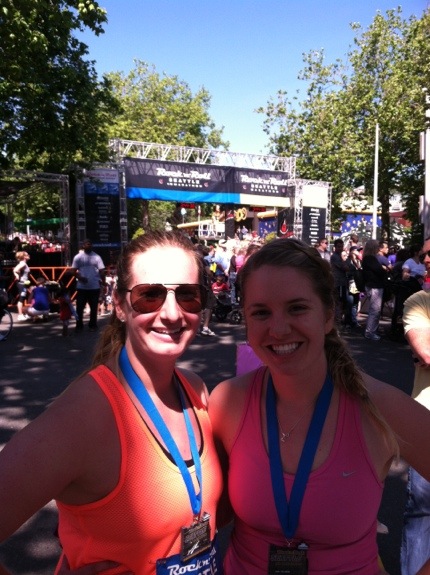 I finished in 2:32:14 via my watch and 2:38:07 via the timing chip, Sarah was 2:38:08, which was awesome considering she hadn't been training much.
Overall it was a blast and we're already scheming our next race!
xx
-h