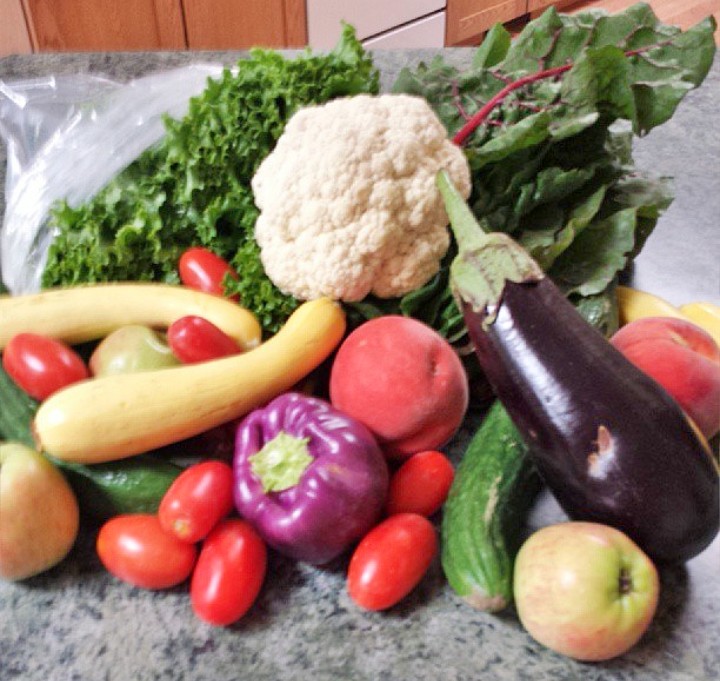 This week's farm share pickup from Terry's Berries included: chard, lettuce, cucumbers, summer squash, baby roma tomatoes, a purple bell pepper, olives, peaches, apples, and an eggplant.
Every week the Terry's Berries team sends an email with what's happening on the farm, expected items, and a couple of recipes.  The amount of squash rolling in is pretty incredible right now (my parent's plant has gone rogue and is seriously over producing.  She keeps joking about leaving the plants on her neighbor's doorsteps and I legit can't tell if she's joking).  My mom was really excited to try the ratatouille recipe from the newsletter.  It looked different then what I pictured from the movie, but came out delicious!  We used roasted chicken mozzarella ravioli from Costco for the pasta.
Ratatouille Bake
Adapted from Rolling Prairie Cookbook
3 tbsp olive oil
3 to 5 cloves
1 medium onion, chopped
2 cups eggplant, diced
2 cups zucchini, or other summer squash, diced half inch or so
1 large bell pepper, diced
2-3 cups  fresh tomatoes, chopped
2 tbsp parsley (we used dry)
2-4 tbsp chopped fresh basil
Salt and pepper to taste
8-10 oz package frozen filled tortellini or ravioli
4 ounces Mozzarella cheese, grated
Heat oil in heavy skillet over medium heat.  Add garlic, onions, and eggplant and saute for several minutes, stirring constantly.  Add zucchini, pepper, tomatoes, parsley, basil, salt and pepper.  Stir well and cook over medium heat several minutes more.  Reduce heat to simmer and allow to cook until vegetables are tender and flavors are well blended, about 30 minutes.  While vegetable are simmering, cook pasta according to package directions.  Drain well.  Lightly oil a large casserole and line bottom with cooked pasta.  Cover with hot ratatouille. Top with grated cheese.  Broil until nicely brown on top.  Serves 6.
Enjoy!
xx
-h
P.S. Learn about our farm share here.