As a kid, my grandmother always had cookies at her house.  My parents didn't keep junk food in the house, let alone cookies, so going to Grandma Jeanne's always meant we would get to have either a ginger snap or oatmeal cookie after lunch.  A couple years ago I made this Bon Appetit Chewy Triple Ginger Cookie Recipe and it was delicious, but pretty labor intensive given the amount of ingredients.  Recently, I picked up the Tom Douglas Dahlia Bakery Cookbook and marked the recipe for Old Fashioned Molasses Cookies with Fresh Ginger.  Last night I combined parts of both recipes for these Chewy Ginger Molasses Cookies.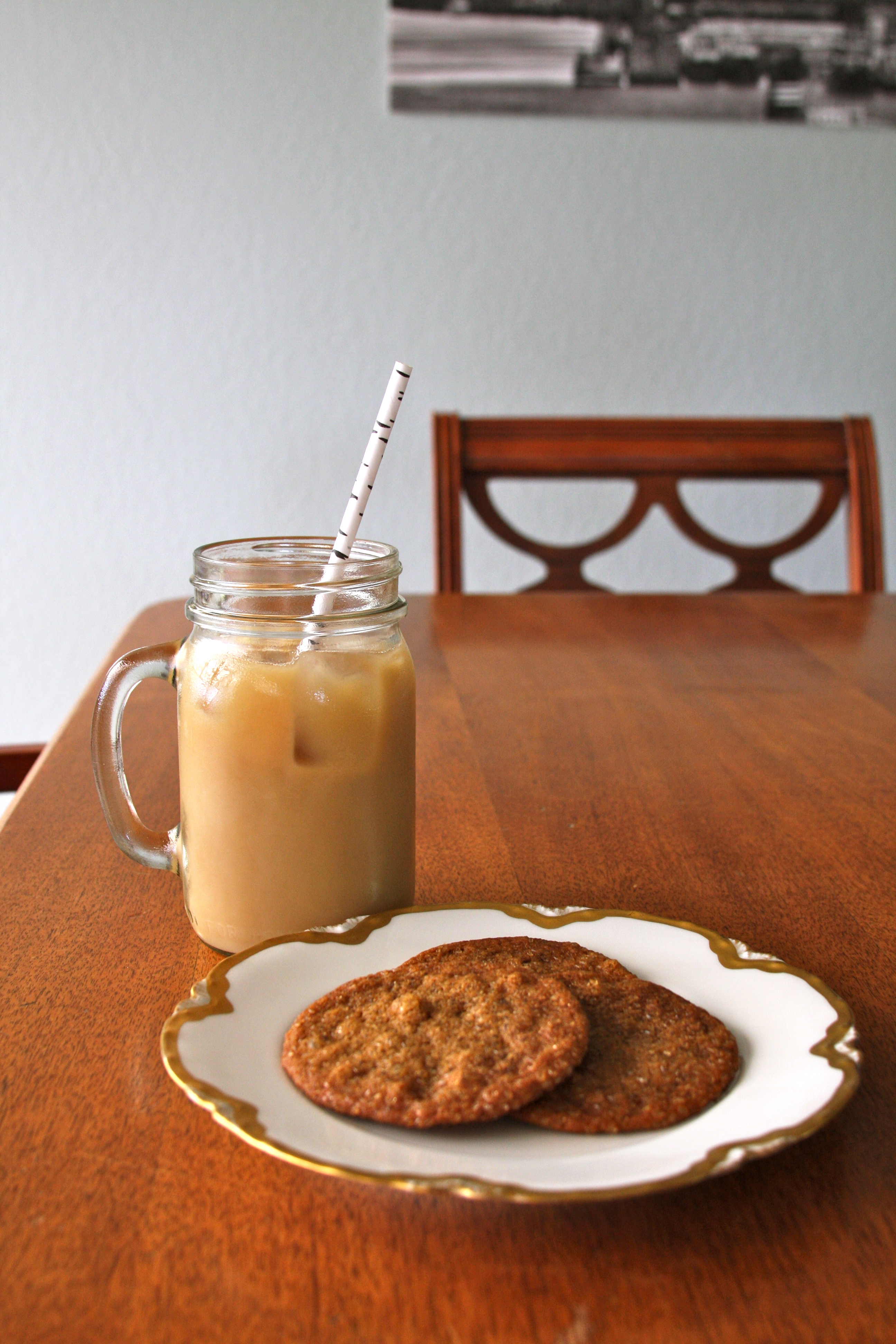 Chewy Ginger Molasses Cookies
-3/4 cup (1.5 cubes) unsalted butter
-1 cup light brown sugar
-1 large egg
-1/4 cup molasses
-2 teaspoons fresh ginger peeled and grated
-2 cups flour
-2 teaspoons baking soda
-1/2 teaspoon ground cinnamon
-1/2 teaspoon salt
-1/2 cup finely chopped crystallized ginger
In a stand mixer using the paddle attachment cream butter and sugar until fluffy.  Add molasses, egg, and fresh ginger and mix to combine.  In a separate bowl whisk flour, baking soda, cinnamon, and salt together.  Add the flour mixture to the wet ingredients and combine.  Add the crystallized ginger and mix until evenly dispersed.
Refrigerate dough for at least an hour.
Preheat oven to 350 degrees.  Pour 1/2 cup of sugar in the raw (or regular white sugar if you don't have coarse kind) in a bowl.  Form 3/4 inch balls of dough with your hands and roll in the sugar.  Place on parchment lined cookie sheets 2-3″ apart and squish down with your hand so the ball is flattened.
Bake for 7-8 minutes or until golden brown and set around the edges but slightly soft in the center.
Tip: If dough starts to get soft while you are putting on cookie sheets, return to fridge until it's set again.
These would make great ice cream sandwiches – put a scoop of chocolate ice cream between 2 cookies and wham bam, delicious dessert!
Enjoy!
xx
-h